The M20T mini monster truck is a good spec mini racer at an amazing price. The model has plenty of features many of which are not even on much more expensive models making it the best value mini truck on the market. Whether racing around your lounge or down at the race track the model will provide hours or fun. A great feature on the model is that there are some cool upgrades so once you've mastered the model why not try out the patented four wheel steering upgrade or bling it up with a set of alloys! In summary this is a high spec mini truck at the lowest price in the UK.

Description:
M20T 1/20th scale radio controlled electric powered 4WD mini monster truck.

Specifications:
(1)Length: 220mm
(2)Width: 180mm
(3)Height: 130mm
(4)Gear Ratio: 5.7:1
(5)Tires: 70mm
(6)Power system: RC-370 electric motor
(7)Battery: 7.2V Ni-Cd battery pack with UK charger
(8)Running time: ~15 minutes

Features:
Real working lights
Upgradeable to patented design 4 wheel steering system
Optional upgrades available such as wheelie bar and alloys
Fully assembled, ready to run!
8pcs susp. shocks
Sealed gearbox
Electric speed control w/reverse and separate receiver
Four wheel drive system w/shaft drive
Front and rear geared differentials
Front & rear double wishbone suspension

Controller: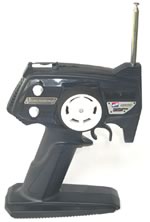 The M20T comes with a 2 channel CE approved radio control. It is UK spec 27mhz with changeable crystals.