The Honey Bee helicopter is the best 4 channel beginner helicopter on the market. We tried all the different models available before deciding which helicopters to stock and found the Honey Bee was by far the most stable and best quality. This is not the cheaper Honey Bee "T" but the upgraded Honey Bee with a bigger 8.4V battery pack and more powerful 370 motor. Everything you need is included except 8 normal AA batteries for the controller.

Description:
Honey Bee fully built 4CH electric radio controlled helicopter

Specifications:
(1)Main rotor diameter: 520mm
(2)Weight: 290g
(3)Length: 510mm
(4)Main blade material: plastic
(5)Power system: 370 motor
(6)KIT or RTF: RTF
(7)Control mode: normal
(8)Transmitter: 4CH system
(9)Mix controller: "4 IN 1" controller(W/gyro,mixer,ESC, receiver)
(10)Servo: 8g,1.3kg/CM,0.13s/60
(11)Battery: 8.4V-650mAh Ni-MH with UK charger
(12)Flying radius: ~400m
(13)Flight time: ~15 minutes

Features:
Excellent design for your indoor flight
Pre-position servo mounts for easy setup
Carbon fibre and flybar and boom for superior strength and durability
Ready for flight out of the box except 8 "AA" batteries (not included)

Controller: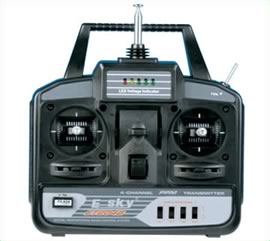 The Honey Bee comes with a 4 channel radio control. It is UK spec 35mhz with mode 2 controls (left hand throttle).