The Acme Leopard is the highest spec mini monster truck on the market. No other mini truck has dual motors and dual battery packs giving it incredible power and speed. The Leopard is the latest development in the exciting new 1/18th scale class that is fast becoming the most fun scale to race. The truck has been designed with the same detail and features as the big scale trucks but at this size races can be held anywhere. Racing around a home built track of books, magazines and practically anything you can find around the house is great fun, or hit the garden or race track to test the amazing handling provided by the geared differentials, independent suspension and fully ball raced system. A great model for great fun.

Description:
Leopard 1/18 scale radio controlled electric powered 4WD mini monster truck.

Specifications:
(1)Length: 256mm
(2)Width: 196mm
(3)Height: 116mm
(4)Wheelbase: 190mm
(5)Weight: 920g
(6)Ground Clearance: 24mm
(7)Tires: 74mmx38mm
(8)Power system: Dual powerful 280 motors
(9)Servo: 8g,1.3kg/CM,0.12s/60
(10)Battery: Twin 6V 700MAH Ni-Cadmium battery packs with UK charger that allows charging of both battery packs at the same time
(11)Max Speed: ~35Km/h
(12)Running time: ~15 minutes

Features:
Fully assembled, ready to run!
8pcs susp. shocks
Dual motor drive system
Electric speed control w/reverse
Four wheel drive system w/shaft drive
Fully ball raced
Front and rear geared differentials
Independent suspension

Controller: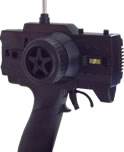 The Leopard comes with a 2 channel CE approved radio control. It is UK spec 27mhz with changeable crystals.